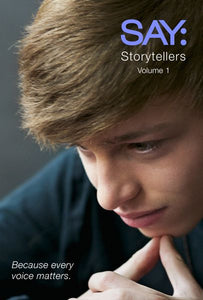 The SAY: Storytellers Book - Volume I is the culmination of SAY's first Storytellers program.  
This 66-page, softcover book features the inspiring stories from 7 teens from the across the US, and beyond. Order this book and prepare for an inspiring, emotional and uplifting journey!
Under the mentorship of Katherine Preston, a person who stutters and brilliant author of Out With It: How Stuttering Helped Me Find My Voice, 7 teens who stutter had the incredible opportunity to write their own personal story, during this 3-4 month program. At the end of the program, all of these incredible stories were compiled into this SAY: Storytellers book. Teens who stutter also discovered their own unique and beautiful voices.